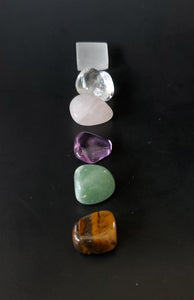 Baby Witch Beginner Crystal Kit
Are you starting your journey into the craft? Are you simply interested in working with crystal energy but aren't sure where to start? I have curated a collection of crystal to get you started! But this isn't any kit, you also get a set of reference cards that correspond with the crystals in your kit. These could be added to your book of shadows or journal as well! The crystals included are tumbles that will work well on an altar or a size that is easily carried. Most stones will be about 1-1.5 inches and will vary in shape, size and weight as it is a natural product. Crystals will come in a black velveteen bag.
Your Kit Includes:
(1) Rose Quartz- Healing, self-love
(1) Tiger's Eye - Courage 
(1) Selenite - Charging & cleansing
(1) Amethyst - Calming
(1) Green Aventurine - Luck
(1) Clear Quartz* - Amplification
* Clear Quartz may come in a tumble or a small raw point. If you have a preference leave a note with your order and I will accommodate your request based on my available inventory.